Adoption and fostering forms at the bottom of this page.
Fostering is an essential part of our rescue efforts.
To Foster or Not to Foster.... that is the question.
I think more people are able to foster than they themselves realize. Let's address some myths, that tend to discourage people from taking on this noble, life-saving endeavor.

I can't afford it. Most rescues will help absorb the cost to foster. Vet bills, food, you name it. No rescue is looking for someone to lavish expensive toys and grooming on their fosters. If you can provide love and attention and some direction if they need training, likely your rescue will take care of the rest.

I don't think my other pets would like it. This rolls of the tongue very easily, yet have we really thought about it? Some people truly have dogs that are not great with other dogs, but more often than not, most dogs would happily welcome a temporary play mate. If you have cats, address the territory needs of your cats and you may do just fine introducing a temporary buddy.

I don't have the time. When people say this, I think it's based on an assumption that fostering will require them to work with the rescue more than they have the time to do. Most rescues will do that leg work: they'll post the dog's story, talk him up, and get him exposure. Fosters aren't expected to spend every weekend at events. And honestly, most rescues have a good application process which screens out bad owners and leaves you with "meet and greets" that are quality and don't take up all your personal time.

It will be too hard to let them go. Don't be so sure. Not that you won't love them deeply, but when you find the right match for them, letting them go will be so easy and rewarding. You anticipate that "next" foster with such excitement. If it feels wrong to give them up, it's likely because you don't support the family match presented. This is a good thing. When the match is right, you may miss them, but you know there is another life waiting around the corner.

I don't want to be scrutinized. A lot of people dread that process.. home visits, reference checks. As a private person, I can understand why this is daunting. With nothing to hide, it can be hard to put your life on display and feel like you need to be "approved". The good news is, is that organizations do this one time. They don't come to your house looking for reasons to say 'no'. They want to be sure you are not a hoarder, don't have a dangerous back yard, and want to be sure your current pets are well cared for and like your potential new foster. Don't sweat it.

I can't trust a strange dog. I get it, you don't know them. You don't want to come home to destruction or a dog fight. Like adopting any dog.. puppy or adult.. there are ways to ensure they acclimate to your home and your family. You crate them while gone, and spend good quality time with them otherwise. An unknown dog isn't like renting your room to someone who just got out of prison. They are dogs, and they understand limits and leadership.

I don't want to get stuck with a dog I don't trust/like. You won't. Rescues aren't in the business of making bad foster matches. If you meet a potential foster and aren't "feeling it", say no. Tell them you would like to consider another foster instead. The rescue isn't going to judge you for that.. they are so grateful to have you. Don't feel like if you go down the road of fostering that you'll be obligated to foster whatever dog they 'throw at you'. It doesn't work that way.

I'll feel bad if I have to give the foster back. Fostering is a commitment that you will provide optimal care and guidance while you have them. If it is not working, for any reason, talk to the rescue. People want reliable fosters, but not at the expense of it not being the right fit. If your other pets are just not loving it, or the dog is not a match for your family, the rescue shouldn't hold that against you. Perhaps there is a better fit. And never, ever, let one foster match that wasn't great put you off from fostering. I fostered a dog for 3 months. She was not a permanent match for my life due to her prey drive with my cats. I asked Dawn to switch me out with another dog who may need me more (a sick dog, etc).

Fostering should be fun. Okay, I tricked you.. that is NOT a myth. Some dogs will need training, encouragement, love.. no dog comes "batteries included" unless you are very lucky. It should be fun. You should invite a dog into your home, see them blossom, and encourage great behavior. You help them find a forever home, and you are ready to help save the next life.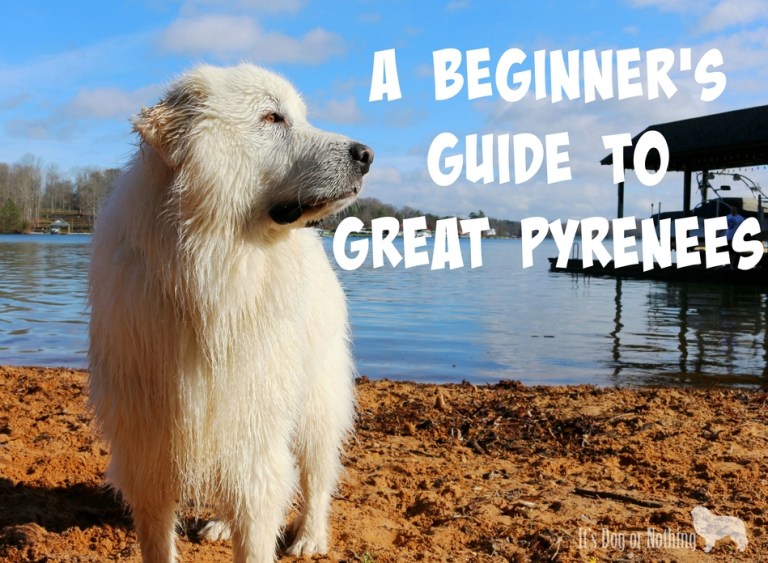 A BEGINNER'S GUIDE TO GREAT PYRENEES HISTORY
The Great Pyrenees, or Pyrenean Mountain Dog, is an ancient guardian breed that originates from the Pyrenees Mountains between France and Spain, although many believe they can be traced even further back to Siberia. These dogs were bred to handle the dangerous task of guarding flocks of sheep and other livestock on the steep mountains from predators, all without human intervention. Paintings and literature depict Great Pyrenees at least 2,000 years ago, however often under a different name. In 1675, the Great Pyrenees became a royal court dog due to their beauty, elegance, and majestic appearance by King Louis XIV.
APPEARANCE
The Great Pyrenees is a regal dog who is predominately white, although some have
coloring on their bodies
. Per the breed standard, Great Pyrenees may have badger marks in various shades gray, brown, and tan on their face and covering up to 1/3 of their body. The double dew claws on the hind legs are also a classic breed characteristic.
Height at the withers is 27-32 inches for males and 25-29 inches for females. Weight should be proportionate to the size and structure of the dog. Typically, Great Pyrenees will range from 90-150 pounds at a healthy weight. The Great Pyrenees is considered a medium boned breed (for reference, a Newfoundland is well boned and a Mastiff is heavy boned). This means that a 120-pound pyr could appear to be the same size as a 150-pound Newfoundland. In summary, a Great Pyrenees should not be overly lumbering or light. The dog's proportions are most important.
TEMPERAMENT
The Great Pyrenees is
unlike most breeds
as they were bred to think independently of humans in order to successfully do their job. This can often be interpreted as stubbornness as they typically do not strive to please people or listen to commands. If your command occurs simultaneously with an instinctive drive, more than likely your pyr's instinct will win. Sharing your life with a Great Pyrenees requires a deep understanding of this trait and the patience to be calm and gentle at all times.
Pyrs are slightly aloof with people, but always stun crowds with their calm, regal appearance. They are deeply devoted to their family and would risk their lives without a second thought. Their strong, protective instincts can cause them to be territorial, but most often they will not do any harm. It is incredibly important to heavily socialize your pyr to all kinds of people from an early age to prevent extreme uncertainty.
Great Pyrenees are not attack dogs and generally won't harm people, but they tend to intimidate with their size and deep bark. It is a pyr's instinct to bark and it is usually impossible to train
this breed not to bark
. Bark collars and debarking are strongly advised against as a pyr will continue to bark regardless. Barking is absolutely vital to the breed, so if you prefer a quiet dog this definitely isn't the breed for you. Since barking is the way they protect their flock, expect them to bark a lot, especially at night. Pyrs are nocturnal by nature and spend the night hours instinctively barking to deter any predators. Keeping pyrs inside at night and a good nighttime routine can help curb this barking.
The Great Pyrenees is
known for roaming
, so they require at least a 6' fence (never an invisible fence) or a leash at all times. It is often said that an "off-leash pyr is a disapyr". A Great Pyrenees will rarely have 100% recall, especially if you end up competing with instincts. You cannot train a pyr to stay on your property because he feels his territory is as far as he can wander. Due to their independence and protective nature, they will often seek out threats to protect you and your family. Pyrs do not have a sense of vulnerability and coupled with an exceptionally high pain tolerance, they will do whatever necessary to protect you. They have extraordinary hearing and smell to sense potential threats long before you are even aware of them.
Although Great Pyrenees are large, protective dogs, they are extremely sensitive. Yelling, harsh tones, and aversive treatment will greatly harm your pyr. They are also sensitive to the mood of their people and will stick close by to help you in your tough time. This breed must have companionship and affection or he will likely become destructive by digging up your yard or escaping your "escape-proof" fence.
Pyrs also typically do well with children and small animals. It is important to remember that pyrs do not fully mature until at least three years of age. Until then, you will have a clumsy puppy that can easily knock over a toddler accidentally. While pyrs are more "tight-lipped" than most giant breeds, many still drool quite a bit. Drool and fur come for free with every Great Pyrenees!
Female pyrs tend to rule the show and be more strong-willed than the males, so it is often advised not to adopt two females together or a female with a strong-willed male. Of course, this varies per dog, so it is important to consider the individual personalities.
TRAINING
As previously mentioned, the Great Pyrenees is an
extremely sensitive breed
and is easily traumatized. Hitting, yelling, and other aversive methods will quickly cause your pyr to lose trust in you. Pyrs respond very well to positive reinforcement through treats and praise. Always lavishly praise any desired behavior.It's a common misconception that pyrs cannot be trained. Great Pyrenees are exceptionally smart and need to be challenged. While they may show little interest in training and will see what they can get away with, training is a must to prevent an unruly, 100-pound puppy. Take time to find what motivates your pyr and work together to develop your bond. A strong bond will greatly improve your pyr's responses and create a strong partnership.
GROOMING
The coat of a Great Pyrenees is immensely beautiful and r
equires a lot of care
to keep in top shape. Shedding occurs year-round with a blowing of their undercoat in the fall and spring. It is necessary to establish a weekly brushing routine, but 2-3 times per week is best. A pyr's coat is self-cleaning, so if they get muddy, simply let it dry and brush it out. Pyrs only need a few baths per year to keep their coat looking nice. Their double-coat is mostly mat resistant, but behind the ears and the pantaloons are subject to matting.A pyr has a remarkable double-coat that keeps them warm in the winter, cool in the summer, and protects them from the elements. Therefore, it is never advised to shave a Great Pyrenees. Shaving should only occur for medical purposes or in the case of neglect where the coat cannot be saved.
Great Pyrenees are also unique due to the
double dew claws
on their hind legs. These double dews are a part of the breed standard and akin to a thumb, so they should not be removed. Unlike most dew claws, the double dews of a Great Pyrenees are attached by a bone and rarely are torn or problematic. The double dews should be trimmed regularly so they do not grow too long and into the dog's pad, often causing a nasty infection.
HEALTH
​The Great Pyrenees is one of the healthiest giant breeds and in a safe home often live 10 to 13 years. I have heard of several pyrs making it to 15 years of age, which is pretty amazing for a giant breed.Pyrs tend to have few health concerns, but osteosarcoma and
bloat
are the most deadly to the breed. Hip and spine issues are also fairly common, especially as they age. Allergies are often an issue for pyrs so extra attention should be paid toward their environment and nutrition.
The Great Pyrenees has a very slow metabolism and is a low-energy dog so they require a smaller than expected amount of food. A full-grown pyr may only eat 2-4 cups of high-quality food per day. Free feeding is typically okay with this breed as well as they usually do a good job at regulating their weight.